Have you been thinking how to use that small corner in your room? Stop thinking, the answer is right here. It's the Trimline 64 Corner. Our smallest build-in corner fireplace with burning log technology fits your needs perfectly! With the optional LED burnerbed, you are sure to enjoy this fireplace even when the fire is out.
The version shown here has a black glass interior but you can also choose grooved or a rock-patterned interior. No matter what version you choose, you will be getting a beautiful stylish fireplace. Moreover, the 64 series includes a frontal and panoramic version. It comes with the Ecomax remote control and you can choose to add WiFi-control with our Trimline Fires app. Click here to view all of the customisation options.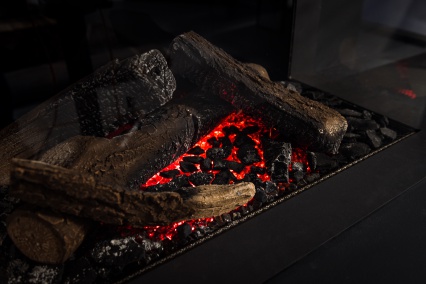 LED burner bed: enjoy your fireplace, even when the fire is out
Our optional LED burner bed creates a wonderful smouldering effect. You won't believe it isn't rea! Even when you are not using your fireplace, this burner bed gives creates a lovely ambiance. You can control the intensity of the burner bed with the help of your remote or Wifi app. Enjoy you fireplace. Even without the flames.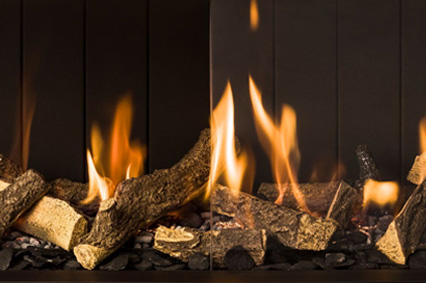 Anti-reflective glass: the ultimate 'fireplace' experience
Create that authentic 'fireplace' feel with the help of our anti-reflective glass. Nothing stands between you and the flames besides a barely visible layer of glass. Get ready for the ultimate hearth experience. With a fire that radiates like never before with glass that no longer acts as a mirror.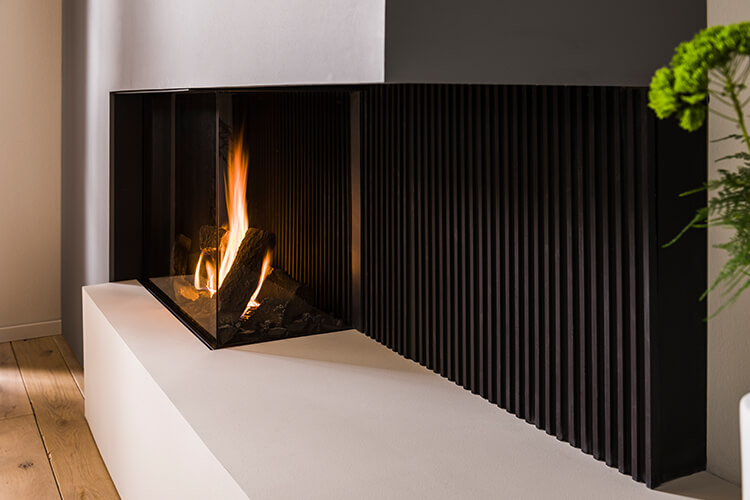 More than a fire: choose your interior
Thanks to our many interior styles, any setting can be created. You decide on the ambience that your future fireplace will exude. Become the master of your design – that of your fireplace, and of your whole room by extension. Our interiors are designed in such a way as to match any decor. Read more about our interiors.
Features
Trimline built-in gas fires contain the following features.



Woodburner with double burner


Anthracite steel interior










Technical specifications
| | | |
| --- | --- | --- |
| | Natural gas | LPG |
| Heat input (kW) | 9,5 | 11,2 |
| Heat output max (kW) | 7,7 | 9,2 |
| Heat output min (kW) | 3,2 | 2,8 |
| Gas usage (m³/h)/(kg/h LPG) | 1,0 | 0,4 |
| Efficiency* % | 82 | 82 |
| Energy label* | B | B |
| Flue size (mm) | 130/200 | 130/200 |
| Weight (kg) | 160 | 160 |

*best efficiency
Frequently Asked Questions