Are you considering purchasing a fireplace? We are happy to help you find the fireplace that best suits your needs.
Which fireplace suits me best?
"What to consider when purchasing a fireplace?" What are you looking for in a fireplace? Is heat a priority or are you looking to add ambiance to your home? Or perhaps both?
Gas or electric
A fireplace provides both ambiance and warmth in the second place. If you have a gas supply or are happy to install one you should opt for one. We recommend choosing a gas appliance. The flames are more realistic, and it is easy to control. 
 If you do not have a gas supply the other option is one of our exquisite electric appliances that offer a realistic flame effect and can even be used when no heat is required, the electric fireplaces are easy to install and to control. 
Types of
 fireplaces
The type of appliance is one of the most important aspects to think about. Where do you want to place the fireplace? Do you have enough space, is it in the corner of the room or do you want to separate a space? 
Our trimless appliances provide the look and feel of a real fire.  Whether you are looking for a contemporary landscape model or would like something a little more traditional with a mantle, there is a solution for every situation. As the name already implies, you have a frontal view on the fire.

If you are looking to make a real statement, a corner fire may be the perfect choice. The highly efficient corner fires allow you to view the beautiful flames from different angles and are available in either left-sided or right-sided options.

Bring incredible ambience into your home with a stylish panoramic fireplace. These stunning fires make an amazing centerpiece in any home. The three sided windows allow an unrestricted view of the fire from all sides of the room at with the touch of a button. Choose from different sizes, available in both natural gas and LPG.

"Vibrant, artistic ambiences. The perfect solution for your house": A fireplace is the perfect item to divide a room. Choose between a tunnel or a room divider. You can't go wrong, whatever you choose.
Who says an efficient solution cannot be stylish at the same time? Get the best of both worlds with a tunnel or room divider that does it all.  A room divider fireplace allows you to partition a room in a stylish way, allowing you to enjoy the cosy comfort of your fire from different sides, or even from different rooms.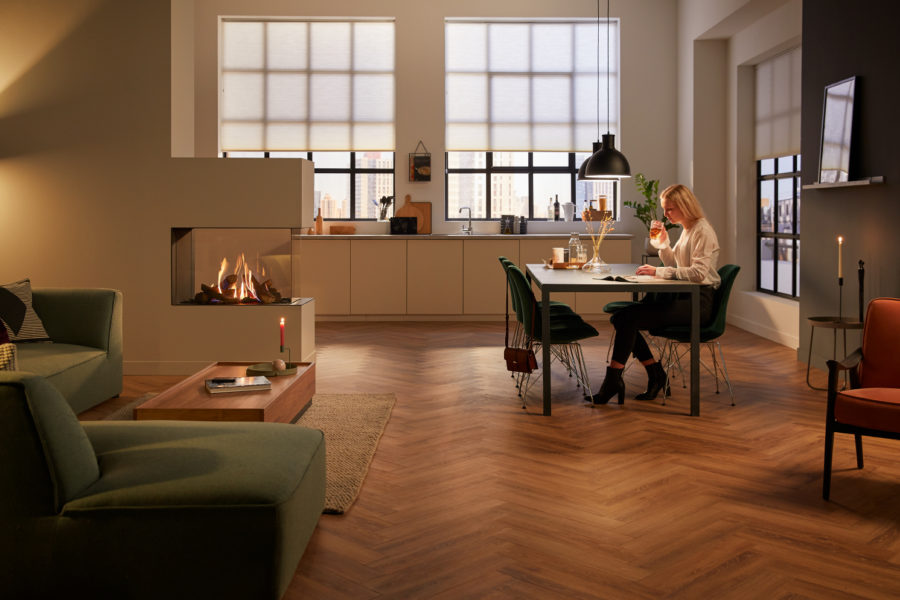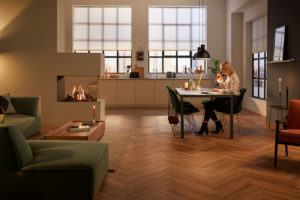 Whilst tunnel fires are two sided appliances that allow you to enjoy the beautiful flames and warmth from two rooms at once! They are perfect for modern open plan homes and can be used to connect spaces, allowing you to see into adjoining rooms, connecting not just rooms, but people as well. 

Freestanding appliances are compact, and very stylish gas appliances, suitable for even the smallest rooms. With their unique designs and playfull options  is it the perfect appliance to gather around the fire.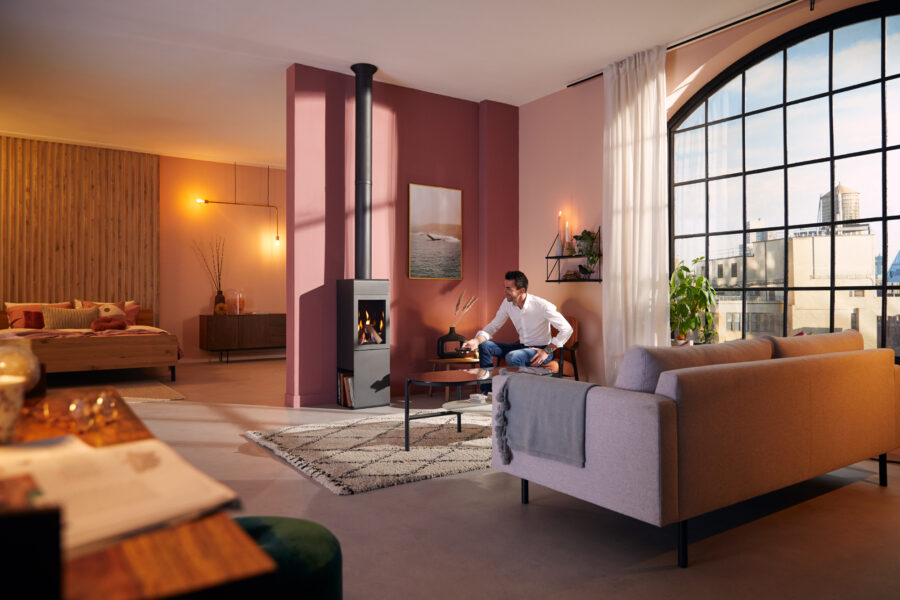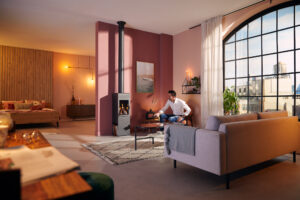 Trimline Fires launched a new series of freestanding fires. Check out more!
Heat output of your fireplace
Only for gas fireplaces.
There could be a risk that you select an fireplace with either a too low or too high heat output. The bigger the room, the more heat output is required. In a smaller room you have to consider the minimum heat output. If the minimum is output is too high for the room you may find yourself using the fireplace only for a short amount of time.
You can use the thermostatic control function to easily control the appliance and warmth in your room.
Not only does the size of the room matter, insulation is also an important factor. If your house is very well insulated, you won't necessarily require an appliance with a high heat output. The warmth cannot go anywhere and will stay in the room due to the insulation. 
The chart below shows you the required heat capacity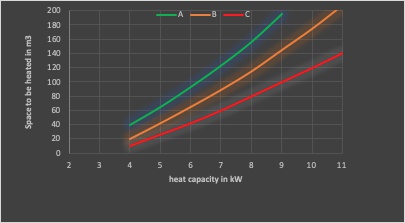 A = a home with double glass, floor and wall isolation;
B = a home with double glass and reasonably well isolated (house from ± 1974 – 1980 or renovated, older properties)
C = a home with poor insulation
Customization of your fire
After you have chosen the fuel type and type of fireplace, you can check which customisation options you desire.
The way the flames dance in your new fireplace will depend in large on the burner bed, also known as the 'fire bed'; the wellspring of ultimate warmth and comfort in your home. 
Choose between:
Carrara stones, pure, unadulterated elegance. Straight from the marble quarries

Pebbles, natural beauty to give your fireplace a rustic personality

Wooden logs

Basalt
Thanks to different interior styles, any setting can be created. You decide on the ambience that your future appliance will exude. Become the master of your design – that of your fireplace, and of your whole room by extension. 
Rock-patterned: classic and stylish, with playful details.

Grooved: sleek and modern – the kind of interior that will continue to captivate

Lamelas: beauty in all its simplicity

Glossy black glass: the glass reflects the fire, doubling the number of flames. 

Anthracite steel: this interior has a slight reflective quality

Vermiculite: if you want to embrace the beauty of mother nature

Brick: the different shades of brown in the brick add a playful, cheeky note
The main advantage of a gas or electric appliance is its ease of use. No more fussing about with firelighters and wooden logs; simply turn on the fireplace and enjoy. You also do not need to wait around for the fire to die out before you get to go to bed. Simply turn off the fire and turn in for the night. Having a fireplace has never been easier!
Create that authentic 'fireplace' feel with the help of our anti-reflective glass. Nothing stands between you and the flames besides a barely visible layer of glass. Get ready for the ultimate fireplace experience. With a fire that radiates like never before with glass that no longer acts as a mirror. 
By adding glowing wool you create a bed of beautifully glowing embers.
Nothing is more beautiful and comforting than a fire burning gently, slowly but surely breaking down the wood and creating a bed of beautifully glowing embers. Even more for you to look at, and an even prettier fire!
Looking for that robust look? The 50mm trims will ensure you to make a statement. They not only give your fire a robust look, but they also add the finishing touch to your fire. A big advantage of the wide trims is the fact they are easy to built-in and finish off the chimney breast around the fire.
So, how to choose the right fireplace? 
Make a choice between gas or electric

Pick your favorite type, trimless, panoramic or freestanding

Check the required heat output which is needed for your room

Customise your appliance using different burnerbeds, interiors and controls.
For more information and the start of creating your own dream fireplace visit our website www.trimlinefires.com or check out our social media channels.