Nøgleord til fuld beskrivelse
Leder du efter en elegant løsning til opdeling af et stort rum i boligen? Hvorfor ikke vælge en rumopdeler-pejs? Det er en smuk og praktisk at måde at opdele et rum på og til at nyde synet af de hyggeligt spillende flammer i begge dele af lokalet.
Brænderbunden i standardvarianten af denne pejs består af brændeknuder med en dobbeltbrænder. Pejsen kan også vælges med en indbygget LED-glødebund som et ekstra hyggeligt indslag. Trimline 83 Rumopdeler-pejsen fås også som tunnelvariant. Desuden leveres den med Ecomax-fjernbetjening og kan som ekstraudstyr betjenes via WiFi med Trimline Fires-appen.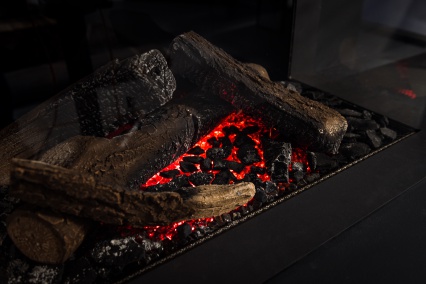 LED-brænderbund til at nyde pejsen, også når der er slukket for ilden
Trimline LED-brænderbunden giver en smuk ulmende effekt. Det er svært at tro, at det ikke er ægte! Med denne brænderbrund behøver pejsen ikke at være i gang for at hygge. Brænderstyrken kan reguleres med fjernbetjeningen eller via WiFi i appen. Nyd pejsen; også uden flammer.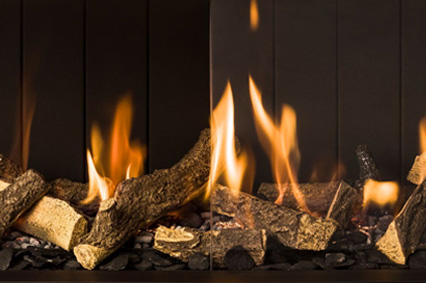 Refleksfrit glas til den ægte pejseoplevelse
Få den ægte pejseoplevelse med refleksfrit glas til din Trimline Fires pejs. Der er intet imellem dig og flammerne, bortset fra det næsten usynlige glas. Nyd synet, varmen og hyggen med en ægte pejseoplevelse. Smukt dansende og varmende flammer bag glas uden generende genskær.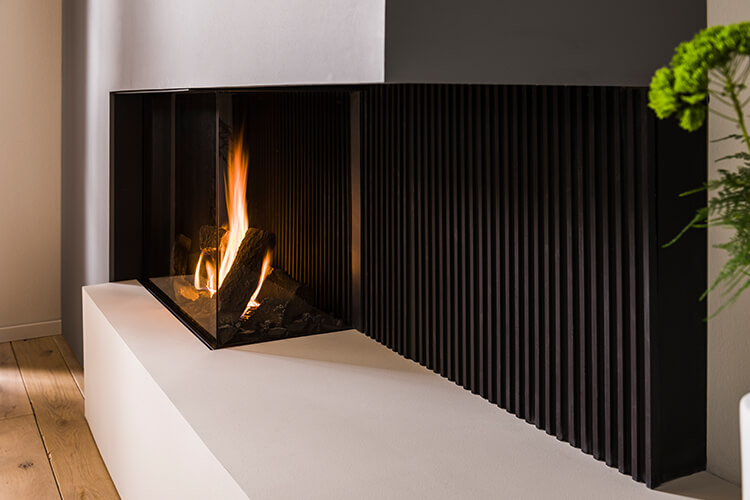 Pejsen som en del af rummets indretning
Med de forskellige design af Trimline Fires brændkammerforinger kan du få præcis den indretning, du ønsker. Det kommer helt an på, hvilken stemning du vil opnå med en pejs. Du er selv herre over indretningen, over pejsen og hele rummets udformning. Trimline Fires brændkammerforinger er i design, der passer elegant i enhver boligindretning. Få mere at vide om Trimline Fires brændkammerforinger.
Funktioner
Trimline indbyggede gasbrande indeholder følgende funktioner.



Woodburner with double burner


Vi går aldrig på kompromis med designet eller teknologien. Til denne model kan der vælges følgende
ekstraudstyr. Vil du have mere information om dette ekstraudstyr?
Få mere at vide om vores ekstraudstyr.








Brændkammerforing af blanksort glas

Brændkammerforing med rillepaneler
Tekniske specifikationer
| | | |
| --- | --- | --- |
| | Brændselstype | LPG |
| Varmeinput (kW) | 12,23 | 13,9 |
| Maks. varmeoutput (kW) | 10,2 | 11,5 |
| Min. varmeoutput (kW) | 3,7 | 3,5 |
| Gasforbrug (m³/t)/(flaskegas kg/t) | 1,3 | 0,431 |
| Virkningsgrad* % | 83 | 83 |
| Energimærkning* | B | B |
| Røgkanalstørrelse (mm) | 130/200 | 130/200 |
| Vægt (kg) | 172 | 172 |

*Bedste virkningsgrad
Frequently Asked Questions